Easy Prevention Tips for Homeowners to Prevent Water Damage
October 11, 2019
Water damage is the second most frequently file homeowners claim. One in 50 insured homes file a water damage claim each year.
Know where the main water valve is located so it can be shut it off quickly in case of an emergency.
Monitor the water bill. A bigger water bill may indicate a water leak exists.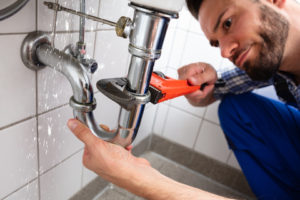 Replace the plastic or  rubber hoses on washing machines, dishwashers, waterlines to refrigerator ice makers and any other water-related appliances periodically. Steel-braided hoses have increased durability and longevity making you much less likely to experience a leak.
Test sump pumps at least once per year. If the pump doesn't have an alternate power source, add a battery backup or upgrade to a pump with a water-powered backup.
Clean gutters and downspouts regularly to ensure water moves through them properly and drains away from the home's foundation.
Inspect the water heater annually for signs of corrosion or leaks. Aging water heaters can weaken over time, increasing their
likelihood of rupturing.
Learn how to use your water meter to check for household leaks. It is much easier than you might expect.
Invest in a Smart Water Security System like FloProtect by Moen that can proactively monitor and detect leaks and even shut-off water. Via its smart phone dashboard you can monitor and control your water remotely. It can help you save you on your insurance and your water bill.
Install Water leak sensor alarms in areas of that may experience leaks. This is a much less expensive option than FloProtect by Moen that you can easily install yourself.  Depending on your insurance carrier installing these sensors may also save you on home insurance premium.
Insure your pipes.  Yes, it is possible. We are happy to offer our Washington homeowners an easy affordable way to insure your exterior and interior pipes through the National Water Company.  Complete Water & Sewer Protection (4 lines bundled) = $19.94 per month or $239.28 per year.