Insurance for the pipes in your home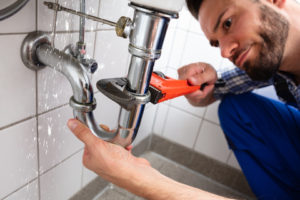 Most people want to know if  a pipe within their home freezes ad burst or starts leaking if it is covered by their home insurance policy.  In general, the damage the water does to your home from a pipe that bursts suddenly will be covered by a standard homeowners and commercial insurance policy.  But remember, not all insurance policies are alike and each property owner should take the time to check for coverage either by calling their agent or reading their specific policy. Almost always damage caused to your home from repeated leakage and seepage overtime is excluded.  Even more bad news is that home policies do not typically afford  any coverage to the damaged pipes themselves. So the property owner is responsible for repair or replacement of the broken pipes and any of those associated plumber costs.
The average lifespan of copper pipes is about 60 years. Unfortunately, acidic water or soil can cause pitting-type corrosion and shorten the lifespan to 20 years or less. Also, other combinations of alkaline ph, hardness, and contaminants can activate pitting, which is essentially the dissolving of copper ions into the water flow at spots on the pipe wall and cause pin hole leaks.
What can you do?
Invest in a Smart Water Security System like FloProtect by Moen that can proactively monitor and detect leaks and even shut-off water. Via its smart phone dashboard you can monitor and control your water remotely. It can help you save you on your insurance and your water bill.
Install Water leak sensor alarms in areas of that may experience leaks. This is a much less expensive option to Flo by Moen that you can isntall yourself.  Depending on your insurance carrier installing these sensors may also save you on home insurance premium.
Insure your pipes.  Yes, it is possible. We are happy to offer our Washington homeowners an easy affordable way to insure your pipes through the National Water Company.Want the pricing click below.
---
Need an insurance quote? Get in touch!
Access quotes from some of the Pacific Northwest's most trusted insurance carriers. It's comparison shopping at the click of a mouse.