Arizona State Auto Insurance Requirements
No matter how carefully you drive, accidents still happen. The state of Arizona wants drivers to be protected in the event of an accident and so it requires all drivers to establish financial responsibility―carry liability insurance on their vehicles, in other words.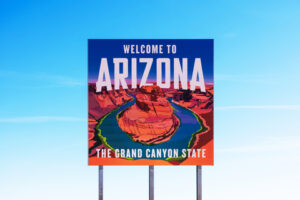 Ways to Establish Financial Responsibility
The number one way to show financial responsibility in Arizona is to purchase liability coverage from a provider with legal authorization to operate in the state.
If you own 10 or more vehicles, however, you can apply to "self-insure" when you complete a Certificate of Self-Insurance Application. Self-insurance certification requires extensive documentation and a surety bond of one million dollars, among other things, and is mostly designed for dealers or owners of corporate fleets.
Here's the bottom line. To drive your vehicle on Arizona roads, you must have either:
A policy for motor vehicle liability insurance
Certificate of self-insurance (if you own 10 or more vehicles)
Arizona Liability Insurance Requirements for Private Passenger Vehicles
Although it follows that the more coverage you purchase, the better you're protected from financial risks, the state requires only that you meet minimum requirements. Those minimum amounts of liability coverage are:
$15,000 bodily injury coverage for one person in one accident
$30,000 bodily injury coverage total per accident
$10,000 property damage coverage per accident
Once you're covered for liability, consider purchasing comprehensive and collision coverage. Familiarize yourself with the various types of insurance coverage before you make a final decision on a policy. It's important to get coverage that will work for your financial situation and vehicle.
Proof of Insurance and Financial Responsibility
Working in partnership with state insurance companies, the Motor Vehicle Division (MVD) has made it easy to track who's insured and who's not. All insurance providers keep the MVD in the loop about new policies, cancellations, and non-renewals, so if you let your insurance lapse (or it gets canceled) the MVD takes the issue very seriously.
If you're not able to show adequate proof of insurance coverage after receiving an inquiry from the MVD, your vehicle registration―and sometimes even your driver's license―will be suspended.
De-insured Vehicles
State law requires you to insure only those vehicles you operate on public roads, including motorcycles, mopeds, and golf carts. But if your vehicle is temporarily non-operational―because you're restoring it, for instance, or due to seasonal storage―you don't need to maintain coverage until it becomes operational again.
De-insuring your vehicle simply means the MVD won't hold you liable or suspend your registration when the vehicle is not insured.
To de-insure, your vehicle, complete a De-Insured Certificate for Arizona form. Submit the form in person at an MVD office or mail it to:
Of course, as soon as your vehicle becomes operational again, you will need to insure it. And if you drive a vehicle that is de-insured, your registration and possibly even your license will be in danger of suspension.
Penalties for Failure to Maintain Financial Responsibility
If you find yourself with no proof of insurance for any reason, the penalty is a suspension of your vehicle's registration and possibly even your driver's license.
To clear a suspension, you need to:
Provide proof of insurance for the period of the alleged coverage lapse, or
Submit an SR-22 form, which is a document certifying that you now have the required liability coverage, and pay a $50 reinstatement fee. The SR-22 form must be from an insurance provider authorized to do business in Arizona, and it must be held on file at the MVD for three years.
---
Need an insurance quote? Get in touch!
Access quotes from some of the Pacific Northwest's most trusted insurance carriers. It's comparison shopping at the click of a mouse.