Are your pets a member of the family?
Is it important to you to make sure they stay healthy and happy?
Pet insurance will give you the peace of mind that your pet is covered in case of an accident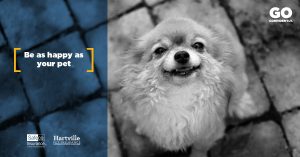 or illness.
Of course, it's not pleasant to think about your pal getting sick or medical expenses, especially when your pet is still young and full of energy. But you want to be sure you can give your best pal the best care possible without having to worry about the cost.
Insurance gives you exactly that: the peace of mind that you can take care of your pet's health without breaking the bank. Selecting the right insurance for your pet is a serious matter, but it doesn't have to be too tricky or hard.
Tips for choosing the right plan
It's Not All About Price: Think Value
Insurance is probably one of the few things in life you hope you'll never need to use but still want to have in the event you need it.
Of course, price does have its place in a decision to choose an insurer over another, however, cheap insurance is likely cheaper for a reason;  So the cheaper it is, the more carefully you should look at the fine print. This means a policy that looks reasonably priced at face value might turn out to be much more expensive than you bargained for because of what it doesn't cover.
The policy may be less expensive due to high deductible and low payouts. The policy could also have exclusions which leave you with out of pocket expenses and frustrated despite having paid the premium for years.
Instead of looking at just price, try thinking in terms of value you gain for money.
What Does The Policy Cover?
There are different types of insurance policies on the market. Some insurance policies are "accident only," which means they will only cover treatment if your pet has an accident. Other policies cover the treatment of preventative, accidents and illnesses.  The most comprehensive policies are plans designed to cover your pet from head to tail.
Getting comprehensive coverage for your pet at a young age is a good idea, because this keeps the premium lower. It also helps you avoid having illnesses conditions that occur later in life being excluded for being a pre-existing condition. Accident coverage may not b as important if your pet is always indoors and isn't very active.
Read The Fine Print
Before you commit to a policy, go through the fine print carefully and make sure you fully understand it. That way, you won't have any unpleasant surprises when it's time to make a claim and you find out there isn't coverage.
The Bottom Line
When you're choosing the best insurance for your pet, you should base your decision on a number of factors. Think in terms of value for money and in terms of what your pet's real needs are.
  Know what to look out for, and you're well on your way to making a long-term investment in your pet's well being.

---
Need an insurance quote? Get in touch!
Access quotes from some of the Pacific Northwest's most trusted insurance carriers. It's comparison shopping at the click of a mouse.