Idaho State Mandatory Insurance Laws and Requirements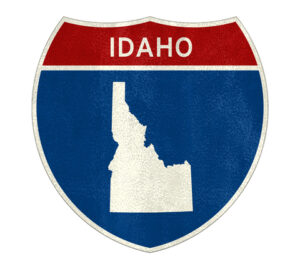 Auto insurance minimum liability requirements in Idaho
Insurance limits refer to the minimum amount of coverage that you can carry and still be legally entitled to drive. From an insurance perspective, the limit is the most that they will pay for a claim.
$25,000 bodily injury coverage per person is the total dollar amount that can be paid by your insurer for the injuries of a single person that you injure in an accident.
$50,000 bodily injury coverage per accident refers to the maximum amount that a car insurance company will pay out for all injuries you cause in an at-fault accident.
$15,000 property damage per accident is the maximum dollar amount that pays for damage that you cause in an accident.
Coverage limits are set by each state and are typically split into three categories: bodily injury coverage per person, bodily injury coverage per accident, and property damage per accident. You'll often see this written out as 25/50/15, or what is known as split limits.
Remember that the numbers above are just the minimum limits required in Idaho. Higher coverage amounts are highly encouraged and available from most auto insurers.
Idaho proof of insurance laws
Proof of insurance has to be carried at all times when driving in Idaho. As of January 1, 2020, Idaho drivers are required to provide proof of insurance for two consecutive months or risk having their registration suspended. Vehicle owners who don't have insurance coverage in place for two consecutive months will be warned. They will have 30 days to show proof of insurance — or get an exemption — before their vehicle registration is revoked.
Penalties
Driving without liability insurance could result in fines, suspension of your driving privileges, and your vehicle could be towed. If your vehicle is towed, you are subject to the towing and storage fees. This is in addition to any fines you may have to pay.
Idaho actively monitors insurance coverage of all registered vehicles. Owners without insurance coverage for two consecutive months will receive a warning and be given 30 days to provide proof of insurance or obtain an exemption before their registration is suspended.
---
Need an insurance quote? Get in touch!
Access quotes from some of the Pacific Northwest's most trusted insurance carriers. It's comparison shopping at the click of a mouse.