The Investment Every Homeowner Should Consider
August 6, 2020
Water damage is one of the most common causes of home insurance claims. According to ISO, water damage claims are the second largest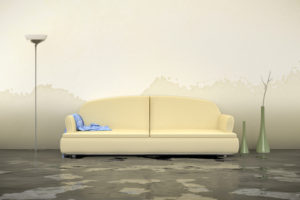 frequent insurance claim, following wind and hail damage. Claims due to water damage impacts 1 in 50 homeowners each year. The cost from these claims impacts all of our home insurance premiums.
What can you do to prevent water damage?
The good news is there have been some great advancements in technology & that technology is now available to homeowners.
One affordable leak detection option is the StreamLabs® water system monitor. The cost is only $169 and it can even be installed by you the homeowner. It monitors what's happening with the plumbing behind your walls and alerts you in real-time when water problems arise – before they turn into disasters. You receive alerts to your phone in real-time if a leak is detected anywhere in your home, and you can view live and historical water usage statistics.
• 24/7 real-time whole-house monitoring
• Home & Away leak detection modes
• Ambient temperature sensor with freeze alerts
• Receive instant notification for abnormal water use – along with comparative and historical water usage data.
• Smart Alerts automatically detect your unique, water usage patterns – all without you having to configure a thing.
• Integrates with Amazon Alexa and Google Assistant.
The downside to all the detection or monitoring systems is that someone must be present at the home to turn off the water when a leak develops. It will not shut it off automatically for you. Which is not much immediate help if you are on vacation or at work.
Want to be able to control your water system from anywhere? Consider StreamLabs Control or Flo By Moen Smart Water Shut Off. These options have automatic shutoff and remote shut-off capabilities. Streamlabs Control is about $599 plus installation, and  Flo By Moen averages about $500 plus installation which is typically another $500. These water shut-off devices are pricier than simple leak detectors and monitors. However, this cost is still likely much less expensive than your home deductible plus the 5-year premium surcharges you would experience on your homeowner's insurance for having one water claim. Depending on your home insurance carrier these protective devices may also qualify you for additional ongoing discounts on your home insurance premium.
Flo by Moen
Protects from catastrophic water damage by automatically turning off the water.
Learns your water-use habits with FloSense Intelligence. The Smart Water Shutoff has three sensors that actively monitor the flow rate, area temperature, and pressure of your home's water 24/7. These sensors work in combination with our unique feedback-enhanced AI technology, Flosense ™, to proactively monitor your home for leaks of all sizes.
Provides valuable water-use info
Great informational dashboard
The device is not dependent on Wi-Fi to turn off your water, you'll be protected whatever the conditions.
Integrates with Amazon Alexa
https://www.digitaltrends.com/smart-home-reviews/flo-by-moen-review/