Summer Squash Strata
September 27, 2018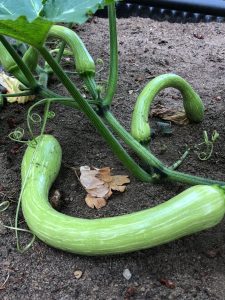 One of my favorite things to grow in my garden is summer squash. There are so many beautiful and delicious varieties that grow well in the Pacific Northwest including crookneck, patty pan, zucchini, straight neck and a variety that I fell in love with, the tromboncini. Buttery, flavorful and an abundant producer, it took over my yard! I had so many of these trombocinis and yellow straight neck squash that I hunted for an easy recipe. I wanted to feature this treasure in a dish that we could regularly enjoy and not tire of.
What I came up with is summer squash strata! It's an easy fail proof recipe that you can vary in many different ways to use what you have on hand in the kitchen. Be creative and substitute or add any of the types of cheeses or dairy products you like and add more veggies or meat to bulk it up.  I made at least a half dozen of these this season and every one was slightly different. They were eaten for breakfast, lunch, dinner, a side dish, a snack and also shared with friends. Everyone loved it, so I'm passing along the recipe to you!  This is the basic recipe, so feel free to add or subtract the ingredients your family enjoys! Bon Appetit!
Summer Squash Strata
By Tracey Bartel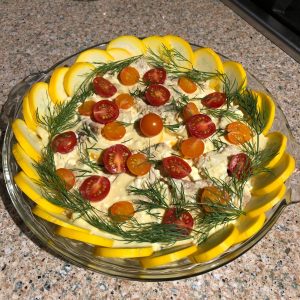 Preheat oven to 350 degrees
Pie Pan
2 summer squash cut in ¼ inch rounds
2 eggs
1 c. cottage cheese
¼ c. milk or half and half
½ c. of sour cream or plain yogurt (or a dip such as artichoke parmesan or spinach for extra flavor)
1 c. shredded cheese such as cheddar, mozzarella, Monterey jack or Swiss, (smoked cheese is especially delicious!)
1 or 2 pieces of stale bread or baguette torn into 1-inch pieces
½ c. sliced cremini mushrooms (or any of your choice)
½ c. chopped onions
½ tsp salt
½ tsp pepper
½ tsp garlic powder
A few sprigs of fresh dill or chopped Italian parsley to finish
Halved cherry tomatoes also make a great topping with the herbs!
In a bowl, mix your eggs, cottage cheese, milk or half and half, sour cream, ¾ c. of shredded cheese, onions and spices.
Arrange sliced squash rounds on bottom of pie pan. This will be your "crust".  Line the side of pan with the squash so they over lay just a bit until they are lined up all the way around the pan.  Place your bread pieces in the pan over the squash. Layer the sliced mushrooms on top of the bread. (if you have more sliced squash, you can layer them on top of mushrooms if there is room in your pan)
Next, pour the egg & cheese mixture on top of the mushroom/bread and sprinkle remaining cheese on the top. You can finish with even more cheese and fresh herbs/cherry tomatoes if it pleases you.
Bake for 23 to 30 minutes and let sit for a few minutes before slicing and serving!