Slow Cooker Chili Con Carne with Beans
June 14, 2022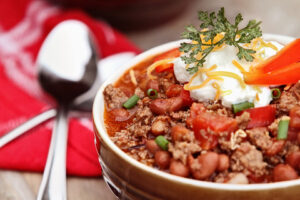 I like to start this recipe the night before and get everything in the crockpot and ready to go.  Then I store it in the refrigerator. Then in the morning, I set it to low and let the chili slow cook all day.
If you are in hurry you can omit stew meat & make this recipe in a Dutch oven or stock pot on your stove. If you are only using ground meat then cooking time can be reduced to 35 minutes.
You will want to use 3 pounds of meat total.  If you choose to use some chuck roast/stew meat then you will need to let the chili cook for at least 3 hours or all day so the stew meat can get tender.
Ingredients
3 pounds of meat total.
1- 2 pounds of ground beef, turkey, or chicken
1- 2 pounds chuck roast (stew meat)
1 1/4 cup of water
1 yellow onion diced
1 green pepper, de-seeded chopped (Optional)
1 jalapeno deseeded and chopped (Optional)
1 tablespoon smoked paprika
1 tablespoon marjoram
1/2 teaspoon to 2 teaspoons Cayenne (Optional)
1 teaspoon Onion Powder (Optional)
Dash of Worcestershire (Optional)
1 (14 oz) can of chopped tomatoes
2 tablespoon tomato paste
2 tablespoons Masa Harina flour (corn flour) (Optional)
1 (14 oz-16 oz ) can of red kidney beans drained and rinsed
1 (14 oz – 16 oz can of chili beans drained and rinsed
1 can of corn drained
Step 1
Prep the vegetables — dice the onions, cut the peppers in half, deseed, and chop them; finely mince, crush or chop the garlic.
Step 2
Toss stew meat in flour and then brown all the stew meat in either large frying pan with some oil. Move stew meat to the slow cooker. Wipe pan clean.
Heat a tablespoon of oil in the same large frying pan over medium heat and sweat the onions while stirring constantly. Next, add the garlic, peppers, chili powder, onion powder, paprika, and ground cumin, Worcestershire, and cook, stirring from time to time, for four minutes.
Step 3
Up the heat a bit, add the ground beef, and sauté it, breaking it apart and stirring, until all the meat has browned. Add the cayenne to taste.
Step 4
Dissolve the beef stock cube in 1 1/4 cup of water, then add that to the pan with the ground beef. Letting it simmer
Step 5
Pour canned tomatoes into the slow cooker with stew meat.  Stir in the marjoram & oregano, and tomato paste, and season generously with salt and pepper.
Step 6
Now add ground beef, canned tomatoes, corn, and all the drained and rinsed beans to the slow cooker Cook on medium-low for at least 3 hours. Or, all day 8 hours on low. If the chili starts to get too thick, add some water. If not thick enough dissolve some Masa Harina flour in a little water and stir in.
Top with sour cream and cheese if desired. Serve with cornbread, baked potato, or rice.
My husband doesn't eat leftovers unless it's chili or pulled pork.