EASY Budget BBQ Pulled Pork Sandwiches
June 14, 2022
This is the easiest budget-friendly pulled pork recipe I have ever come across.
Ingredients
1 (14 oz) can of beef broth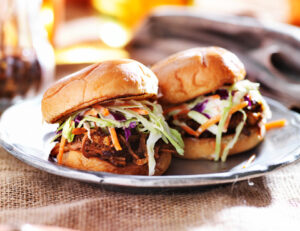 1 tsp liquid smoke (optional)
3 pounds of boneless country pork ribs
1 (18 oz) bottle of barbeque sauce
12 Hamburger buns
Sliced cheese (optional)
Coleslaw (optional)
Directions
Step 1
Pour a can of beef broth and liquid smoke into the slow cooker, and add boneless country pork ribs. Cook on High heat for 4 hours, or 8 hours on low until meat shreds easily. Remove meat, and shred with two forks.
Step 2
Preheat the oven to 350 degrees F (175 degrees C). Transfer the shredded pork to a Dutch oven or iron skillet, and stir in barbeque sauce.
Step 3
Bake in the preheated oven for 30 minutes, or until heated through.
Step 4
Top buns with pulled pork. You may want to also top with sliced cheese and coleslaw.