Recipe for Chicken Vesuvio
March 14, 2023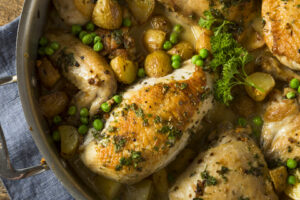 You will need a large roasting pan or a large oven-safe skillet.
Serves 4
Ingredients
4 pounds bone-in, skin-on chicken pieces or 8 bone-in skin-on chicken thighs
salt and fresh ground black pepper
¼ cup olive oil
1 lb. of medium Yukon Gold (3-inch diameter) potatoes sliced in half.
½ onion, chopped
1 tablespoon lemon juice
2 cloves of garlic, minced
12 cloves garlic, sliced in half
1½ cups dry white wine
½ cup chicken stock
1½ teaspoon dried oregano
1 teaspoon dried thyme
2 tablespoons chopped fresh parsley
1 teaspoon dried Italian seasoning
2 tablespoons of butter
Frozen peas warmed in a small saucepan (Optional)
Step 1
Preheat the oven to 450 degrees F. Mince 2 garlic cloves and add to a small bowl with lemon juice to tame the garlic.
Step 2
Rinse and dry chicken pieces well and season liberally with salt and pepper. Heat olive oil in an oven-safe skillet over medium heat. Add chicken, skin-side down, and cook until skin is crisp, 10 to 12 minutes. Sprinkle with oregano and thyme. Turn the chicken over once browned and cook until golden brown on the other side, 5-6 more minutes. Remove chicken and set aside.
Step 3
Add potatoes, onion, and garlic to the pan and cook until onion is translucent and potato wedges start to brown nicely on cut sides, 5 to 7 minutes.
Step 4
Pour wine into the pan. Stir in chicken stock, and Italian seasoning. Add chicken pieces on top.
Step 5
Add to the preheated oven and bake chicken until it is no longer pink at the bone, approximately 20 minutes.
Step 6
Return the pan to the stovetop and remove the chicken and vegetables to a serving dish, leaving garlic and the liquid in the pan. Next, remove garlic onto a cutting board to chop and mash into a paste. Bring liquid in the pan to a simmer and add garlic paste. Next, add butter and stir until the sauce has thickened, about 5 minutes. Add 1 tablespoon of fresh parsley and add tamed garlic and lemon juice. Season with salt and pepper to taste. Pour into a gravy boat.
Step 7
Serve chicken atop potato wedges and garnish with peas, the rest of the parsley, and pan sauce.