Local is Best!
April 9, 2020
During this challenging time in modern history, we're at home and probably having time to cook our own meals. Some of us love this task, while others? Not so much! Take out, delivery or drive through could be your jam, but let's face it, many of us are becoming celebrity chefs (in our own minds) much to the delight of our families!
Here's an example:
While out getting supplies at my favorite local market, Top of the Hill Quality Produce and Meat, I overheard a couple talking about having a "bake off" contest to see who could bake the best cake! I wanted to be a judge, but alas, I was thwarted by social distancing!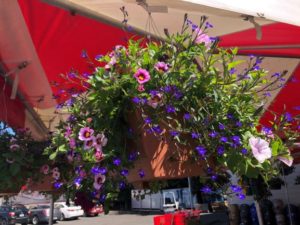 Top of the Hill has been owned by Damu and Jackie Maples for the past 14 years. It has grown into a superb neighborhood market featuring an abundance of local artisan food items ranging from produce, meats, cheeses, dairy, wine, beer, ciders, deserts, condiments, pastas, snacks and staple items. Jackie does a fantastic job of putting together flower bouquets and in the spring and summer, and features hanging flower baskets and starts along with mulch and soil for your outdoor needs. Top of the Hill Quality Produce and Meat also has an amazing butcher shop. If you're lucky, you'll pull up to park when they have the smoker fired up. Mmmm mmm mmm! If you want a treat, try some of their smoked ribs or chicken breasts. They also have several varieties of sausages, meatloaf, kalbi or habanero wings and our new household favorite, chicken thighs wrapped in prosciutto! They are seasoned with garlic and spices and carefully wrapped and tied. Four of them come in a pack and you can bake in the oven at 375 degrees for 30 min. They are juicy and full of flavor. Pairing them with the beautiful Fractalicious Romanesco (its a vegetable) and a bottle of local Cedar River Cellars wine makes a decadent mouthwatering meal!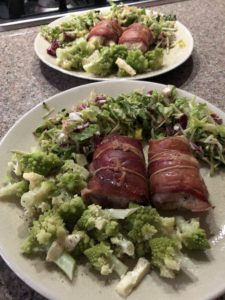 Stop in and check out this little gem in the E. Renton Highlands if you haven't yet. You'll be happy you did!
Tracey Bartel – Agent & Gourmand