Fresh Homemade Cranberry Sauce
November 17, 2022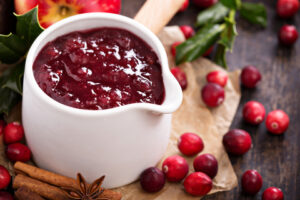 Skip the store-bought stuff this year and serve homemade cranberry sauce. It's actually way easier than you think
Ingredients
1 cup orange juice or port wine
1/4 cup water
1-1/4 cups white sugar
1 (16-ounce) package of fresh cranberries 
Optional:
 1 medium orange zested. (divided)
3 cinnamon sticks or 1.5 tsp ground cinnamon.
 5 whole cloves or 1 tsp ground cloves
5 whole allspice berries or 1 tsp ground allspice
Bring juice and water to a boil in a saucepan; add sugar and spices (Cinnamon sticks, whole cloves, allspice berries)  and cook for about 10 minutes. Strain spices out unless you used ground spices.
Stir cranberries and most of the orange zest into the saucepan and bring to a boil. Reduce heat to low, and simmer until cranberries have popped (burst) and sauce is chunky, about 10 minutes or longer for your desired consistency. The longer you cook it, the less chunky it will be.
Pour sauce into a serving dish or jars and cover until ready to use; the pectin in the cranberries will make the cranberry sauce gel as it cools.
Mix cranberry sauce with a fork before serving. Sprinkle with any remaining orange zest.
Tips
If you like a sweeter cranberry sauce, you can use up to 2 cups of white sugar in this recipe.