Easy Old-Fashioned Blackberry Cobbler
July 21, 2020
Ingredients: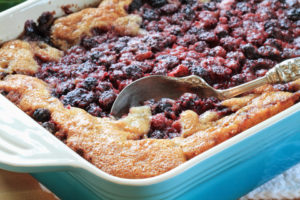 1 stick butter, room temperature

1 cup sugar
2 cups flour
2 Tbsps. baking powder
1 cup milk
6 cup blackberries (fresh or frozen)
1 1/2 cups sugar
1 3/4 cups cold water
Vanilla ice cream or whipped cream
Directions:
Step 1: Preheat oven to 350 degrees F (175 degrees C). Grease a 9×13-inch baking dish.
Step 2: Beat butter and one cup sugar until fluffy. Stir flour and baking powder together then
pour into butter mixture and mix. Add the milk and blend well until a batter forms.
Spread batter into prepared baking dish. Add blackberries on top and sprinkle  remaining sugar evenly over the berries. Pour cold water over all.
Step 3: Bake until batter rises to the top peeking through berries and is golden brown, 45-55 minutes. Cool before serving. Cobbler may be a bit runny at first but will set as it cools.
Serve with ice cream or whipped cream. Or, perhaps both?