Easy Chocolate Peppermint Truffles
December 12, 2022
I love a semi healthy treat and this recipe for Chocolate Peppermint Truffles is just the ticket to combine natural ingredients with some sugary white and dark chocolate and crushed peppermint candy sticks!

Super easy and quite delicious. You and your family will not be able to eat just one and that's ok, because they are "semi healthy!" LOL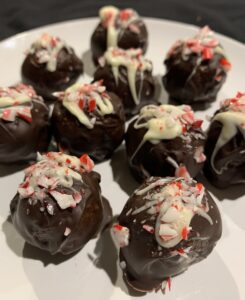 Ingredients
2 C. raw pumpkin seeds (pepitas)
 1 C. pitted dates
1/3 C. shredded coconut
2 T. maple syrup
1 T. cacao powder
10 oz. dark chocolate chips (melted)
4 oz. white chocolate chips (melted
2 T. crushed peppermint candy canes or peppermint candy
Instructions
Add pumpkin seeds, dates, coconut and maple syrup to food processor and mix for about a minute so ingredients combine. Using your hands, roll filling into small 1 inch balls and set on tray lined with parchment paper. Dip each ball into bowl with melted dark chocolate chips and place back onto tray. Drizzle with melted white chocolate chips and sprinkle peppermint candy on the top. Place in fridge to harden for about an hour. Can store in fridge up to two weeks, but I'm pretty confident they won't last that long!