Brussels Sprout Slaw Recipe
November 19, 2021
There are a lot of us out there who love brussels sprouts. There are also a lot of those who wrinkle their noses at the mere mention of this cruciferous powerhouse!
Love 'em or not so much, they are here to stay. Not only do they find their way onto professional and home chef's tables, but they are good for you!
Rich in antioxidants, they are also high in vitamins K and C and are a good source of fiber which promotes regularity and a healthy gut biome.
Roasting brussels sprouts over steaming or boiling is one of my favorite ways to eat them. The outer leaves get a little crispy and caramelized which upgrades
their flavor spectrum. Another way is to slice them thinly on a mandolin and make a slaw. They have a bold flavor, so creating a slaw with ingredients that compliment or
offset the bitterness of the brussels sprout is key. I've provided a recipe below that tastes pretty great. It's a little sweet and tangy with lots of flavors that meld and bring the salad together.
Please enjoy!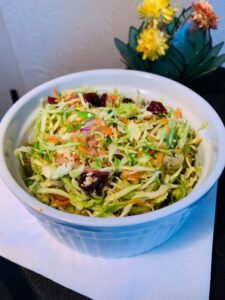 Autumn Coleslaw
2. C brussels sprouts sliced thinly with a mandolin
1 C. cabbage sliced thinly with a mandolin
1/4 red onion sliced thinly with a mandolin
1 medium sized carrot grated
1/3 c. dried cranberries
Dressing
2 T. dijon mustard
2 T. honey
1 T. apple cider vinegar
1 T. fresh lemon juice
1 t. minced garlic
Salt and pepper to taste
Heat up honey until liquifies, add to rest of dressing ingredients and whisk together. Pour over your sliced vegetables and mix together. Add
dried cranberries and add salt and pepper to taste.
Yours Truly,
Tracey Bartel
Agent and Home Chef