Better than Pie Sweet Potato Casserole
October 29, 2021
I love sweet potato pie, however, I  am not a huge fan of the marshmallow-topped sweet potatoes/yam casserole.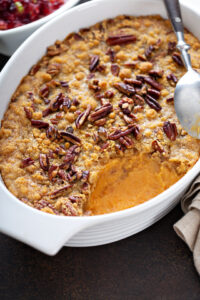 I am also pretty confident that once you have tried this recipe that you won't ever go back to marshmallow-topped casserole.
A couple of things to note about this recipe is that it originally directed baking the casserole in the oven at 350 degrees for 35-40 minutes. I modified it to be made in a crockpot or slow cooker because when I am making a big turkey or ham family dinner I try to cook as much food as possible outside my oven. Cooking in my slow cooker takes some of the pressure off coordinating the timing of the oven rotation game.
The recipe calls for baking the sweet potatoes because I prefer the creamier & fluffier texture of the baked sweet potatoes to the steamed or canned ones. You can choose to use whichever you prefer it won't make that much of a difference to the recipe.
Ingredients
Casserole:
6  baked sweet potatoes. Or, 2 -29 oz cans of yams (drained and mashed)
¼ teaspoon salt
¼ cup butter
2 eggs beaten
1 teaspoon vanilla extract
1 tablespoon orange juice
Optional – 1 tablespoon of an orange liqueur like Triple Sec, Cointreau, or Grand Marnier.
¼ cup evaporated milk (or heavy cream)
½ teaspoon nutmeg
½ teaspoon ground cinnamon
(optional) ¼ teaspoon ginger
½ cup white sugar
Topping:
¼ cup butter (softened)
3 tablespoons all-purpose flour
¾ cup packed light brown sugar
½ cup chopped pecans
Directions
Preheat oven to 350 degrees F (175 degrees C). Lightly grease a 9×13 inch baking dish. Bake sweet potatoes for 40 minutes in the preheated oven, or until they begin to soften. Cool slightly, peel, and mash.   Or, use the canned (drained and mashed).
Lightly grease a slow cooker.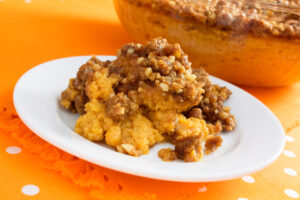 In a large bowl, mix the mashed sweet potatoes, salt, 1/4 cup butter, cinnamon, nutmeg, ginger, and sugar. In a separate bowl mix eggs, vanilla extract, orange juice, orange liqueur, and evaporated milk. Then beat this mixture into mashed potatoes. Transfer this mixture to the prepared slow cooker.
In a medium bowl, combine 1/4 cup softened butter, flour, brown sugar, and chopped pecans. Mix with a pastry blender or your fingers to the consistency of a coarse meal. Sprinkle over the sweet potato mixture.
Cover the slow cooker and cook on high for 3  to 4 hours. Once finished cooking lower the slow cooker temp to warm to keep it warm until you serve. If you choose to bake in the oven, preheat the oven to 350 degrees and bake for 35-40 minutes until topping is lightly browned.
Enjoy!!