You Say Tomato, I Say Birley's Tomato Bisque!
April 17, 2019
When I lived in San Francisco in the early 2000s, there was a lunch spot at 100 Pine St in the Financial District called Birley's Café.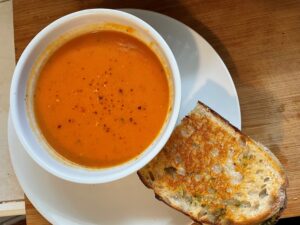 They served sandwiches, salads, and sweets but what I consistently went back for was the SOUP! Even when the takeout soup joint Soup Freaks opened, they still couldn't hold a candle to Birley's Tomato Bisque Soup. That, along with a crispy, melty grilled cheese sandwich surpassed the definition of comfort food beyond my wildest imagination!
One afternoon, full of soup, I decided I needed that Tomato Bisque recipe for myself and was scheming about how I could obtain it…sweet talk the chef? Offer the owners an exorbitant amount of money to get a copy or perhaps just some old-fashioned on my knees begging?! As I researched how to locate the victims of my scheming, low and behold THE RECIPE WAS ON THE WEBSITE!!! I felt like I'd just hit the Spectacular Soup JACKPOT!
With my ego intact and no shameful activity to report, I printed the recipe, gathered the ingredients (don't skimp on the marjoram) went home, and made the soup. It was delicious and the recipe makes A LOT so you can enjoy it for days or even freeze half for later.
Sadly, Birley's Cafe is no longer and I have coveted the recipe throughout the years and hope you find it as delightful as I have. It's meant to be paired with a grilled cheddar cheese sandwich for the ultimate comfort food or enjoyed by itself any time of year. Bon appetit!
Tracey Bartel
Birley's Tomato Bisque
(Serves 6-8)
¼ pound butter
1 cup chopped celery
1 cup chopped onion
½ cup chopped carrots
1/3 cup all-purpose flour
5 pounds fresh ripe tomatoes, peeled, seeded, quartered
or 2 (1 pound 12 oz cans) whole tomatoes, drained and chopped
2 teaspoons sugar
1 cup marjoram or oregano
1 bay leaf
4 cups chicken stock or veggie stock or cold water
1-pint whipping cream
½ teaspoon paprika
pinch of red pepper flakes
salt, pepper to taste
Melt butter in a large saucepan. Sauté celery, onions, and carrots until tender. Stir in flour. Cook 2 minutes, stirring constantly. Add your tomatoes, sugar, herbs and stock. Give it a stir and then cover. Let simmer for 30 minutes, stirring occasionally.
Discard the bay leaf. Blend the soup in a blender or with a blending stick. If using a blender, do it in small batches because hot or warm liquid will expand and shoot out of the blender. Add puree back into the soup pot. Add cream, paprika, chili flakes, and stir.
Pairs great with Grown-Up Grilled cheese & a chilled dry rose'.