Slow Cooker Chicken Pot Pie
October 24, 2018
Fall is here! As the days shorten and the end of Daylight Saving Time approaches I start to use my crock pot more and more often. Working full time it is great to come home to a ready to eat home cooked meal.
This recipe is an easy to make comforting fall favorite.  The leftovers are great to bring for lunch the next day.
Ingredients
1 medium onion diced
1 bag frozen peas
1 tablespoon Better Than Bouillon Roasted Chicken Base or 6 cubes bouillon
1 tube refrigerated biscuit dough (such as Pillsbury Grands Buttermilk biscuits)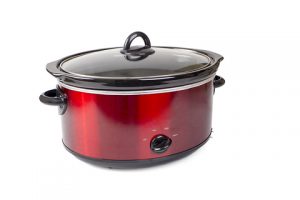 Directions  Prep 20 mins Cook 6 h
Combine the chicken, potatoes, carrots, celery, chicken soup, chicken bouillon, garlic salt, celery salt, and black pepper in a slow cooker; cook on High for 5 hours.  If your morning are rushed then do all the prep night before and put everything but chicken in ceramic inner of crock pot and keep it in fridge until morning, In the morning add chicken to mixture and cook.
Once time is almost up, preheat oven to 350°. Turn off slow cooker and place all of the biscuit dough pieces side by side on top of the chicken mixture. Remove the ceramic, inner part of the slow cooker (the bowl) and place it in the oven for 12 to 15 minutes, or until the tops of the biscuits are golden. Ladle chicken pot pie into bowls and serve.