Six Tips for Taking Your Pets on the Road
June 12, 2019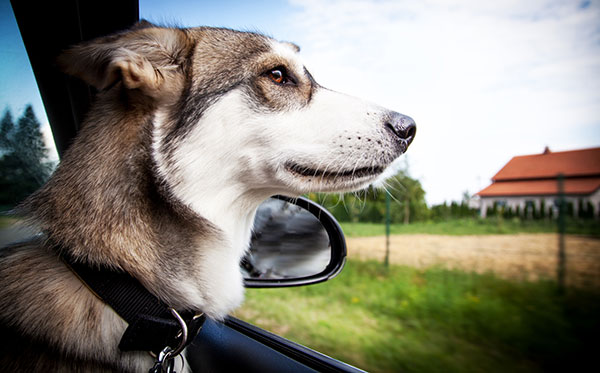 For many of us, a vacation just wouldn't be the same without our four-legged companions. The U.S. Travel Association reports that 18% of adult leisure travelers now take Fido or Fifi with them when they hit the road. Unfortunately, 98% of pets aren't properly restrained​ in the car, according to the pet safety group, Bark Buckle UP.
These tips can keep your pet (and your passengers) safe:
Restrain your pet

You wouldn't dream of letting a passenger ride without a seat belt. Why take a similar risk with your cherished pet? A well-ventilated carrier that's buckled in prevents injury to both you and your pet. In a 30-mph crash, a 60-pound dog can slam into you with 2,700 pounds of force.
If locking your furry friend in a crate just isn't your style, you can try a dog safety harness that attaches to your car's rear seat belt. Bark Buckle UP recommends IMMI's PetBuckle brand, available at major pet retailers.
Miniature breeds may benefit from a doggy booster seat so they can see out the windows. If you use one, make sure you secure your pet with a harness rather than a collar to avoid choking.

The backseat is best

As with a child, your pet is safest in the back seat. If you're using a harness instead of a carrier, that's a must. Your pet faces the same crush-injury dangers from front-seat airbags as a small child.

No flappin' ears

As much as dogs love to stick their heads out the window, don't allow it. Not only can they suffer injuries from flying road debris (even insects can seriously wound a dog's eyes), they can develop respiratory trouble from having cold air forced into their lungs.

No riding in pickup beds

While Washington law allows you to carry your dog in a pickup bed provided you crate or harness it (RCW 46.61.660), it's still a bad idea. In a serious crash, even a crated dog has minimal protection.

Talk to your vet

If your dog or cat experience anxiety and aren't happy travelers, your vet may be able to prescribe a mild sedative to ease the trip.

Pack both food and water​

Considering he might happily drink out of your toilet given the chance, your dog's digestive system is surprisingly delicate. Vets recommend slowly introducing dogs to new water sources to avoid unpleasant surprises.