Horchata Recipe
December 17, 2019
Hola Horchata!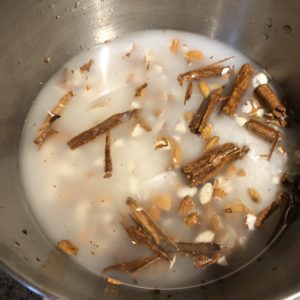 Recently, I had an amazing experience at my Thursday morning West Seattle Champions BNI (Business Networking International) group. Benjamin Jury, catering extraordinaire, brought in a coffee bar for us to sample. There were many amazing syrups and elixirs, but the "Horchata Cold Brew" really piqued my interest! I poured some into my cup and it was smooth, yet full flavored and accented with almond and cinnamon. I absolutely loved it! While enjoying this delight and catching a nice caffeine buzz, my culinary wheels started turning and asking, "Hey! Why don't you try and make some Horchata?!" I really had no idea how to make it, so I decided to do a little investigating.
When I returned to the office, I shared my experience with Armida, our front desk wiz and she said that her boyfriend will sometimes make this drink and says it's "easy." I'm all about easy, so I researched some more and came up with a plan!
It really was "easy", however, the only difficulty I came across was not having a fine enough strainer for the final product. I had to use a cheese cloth, which made it a little challenging! I suggest making sure you have a China cap or fine meshed strainer on hand, otherwise, you'll have a gritty drink at the end. Once I got it all into the pitcher, it tasted delicious! My hubs and I used it in iced and hot coffee and it also made a tasty cocktail if you add spiced rum and a swizzle stick of cinnamon.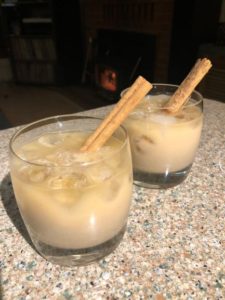 Ingredients
• 1 cup of white rice
• 1 – 1.5 c. sugar adjust depending on how sweet you want (I don't like too sweet, so used 1 c. of coconut sugar)
• 1/2 cup chopped almonds• 2 cinnamon sticks
• 1 T vanilla
• 2 c. almond milk or coconut milk
• 4 c. water
Instructions
Blend rice, cinnamon sticks, almonds and water in blender until rice is gently pulverized. Pour into a bowl and let soak 8 hours or overnight.
After soaking, return to mixer and blend again until rice is completely ground.
Strain through a fine mesh strainer into a pitcher and add sugar, vanilla and milk of choice. Mix well until sugar dissolves. Serve over ice or with some cold brew! Lasts about 2 weeks in fridge.
Cheers!
Tracey Bartel
Insurance Agent and Gourmand