Easy Quiche
March 8, 2018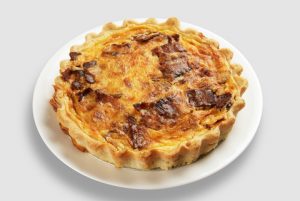 Ingredients:
3 oz of Real Bacon pieces;
1/2 cup finely diced onion;
5 ounces shredded Swiss cheese;
1/3 cup shredded Parmesan/Romano cheese (i.e. Sargento);
4 eggs, lightly beaten w/ a pinch of salt and pepper;
1 cup half-and-half cream
1- 9 inch deep dish frozen pie crust

Directions:
Preheat oven to 400 degrees F .
In a medium bowl, mix the bacon, onions, and both cheeses. Place this mixture in the unthawed pie crust.
Mix the eggs and half-and-half in a bowl. Pour the egg mixture over the cheese mixture. Wrap edges of crust in foil
Bake in preheated oven for 15 minutes. Reduce heat to 350 degrees F and bake for an additional 35 minutes, until top of quiche begins to turn golden brown. Remove foil covering crust during the last 10 minutes.
Have fun and be creative and replace Swiss cheese with other cheeses like Gouda, Chevre, or Feta. Sauteed veggies like mushrooms, spinach, broccoli, tomatoes, sun dried tomatoes and bell peppers make yummy additions.