Do I Need to Purchase the Extra Rental Car Coverage?
April 8, 2021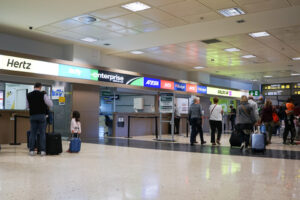 Maybe you've been here before. You've just come off the plane, picked up your baggage, and gone to the rental car counter. You're tired from the flight, a little stressed, and about to begin an ambitious vacation or a challenging business project. And, this is the point at which you're asked, "Do you want insurance with that?"
Most travelers, facing that question from the rental representative, have the vague notion that they don't really need to buy rental car insurance. They need to make a quick decision and have just enough doubt in their minds to make them uneasy with their decision.
So, which is it?
Do you need to buy rental car insurance or not?
Truth be told, there isn't a one-size-fits-all answer. However, you can likely reach a conclusion you're comfortable with by considering these three questions.
1. What Types of Rental Car Insurance Are Available?
Typically, car rental agencies will offer you these types of insurance to purchase:
Damage waivers – Purchasing the Collision Damage Waiver means the rental agency won't charge you for a vehicle damaged in an accident as long you don't break the rules. The CDW is a waiver of the rental agency's right to make the renter pay for damages to the car from a collision. This is also often referred to as a Loss Damage Waiver.  The LDW is often sold with the Collision Damage Waiver in one package and covers things like theft, vandalism, fire, and acts of nature that might directly impact your rental vehicle. Although adding CDW/LDW coverage can be expensive the benefit is if a loss happens then this coverage can help prevent you from making a claim on your personal auto policy which could affect your future insurance costs for up to 5 years. Another benefit is that you will not have to pay any deductible. Phew, you're off the hook!! Drop off the keys to that missing vehicle and walk away. Warning!!! Make sure to read the Rental Agreement's Terms and Conditions so you don't violate the terms of the contract and be aware that things like driving on unpaved roads or speeding typically can void the coverage. Like taking that rental all the way down the road to Hana.
Supplemental liability protection – Electing this will ensure you're covered for costs of damages to others if you cause an accident in the rental.
Personal accident insurance – This coverage will pay for injuries or death of the driver and passengers of your rental car.
Personal effects coverage – Reimburses you for stolen personal items while renting the car.
2. What Rental Car Coverage Might I Already Have?
Start with your personal auto insurance. It's likely that your policy will provide the same level of coverage for your rental as it does for your own car. That usually includes liability insurance, and, depending on the policy you purchased, may include collision, comprehensive and personal injury protection, or medical payments, too. However, your deductible and policy limits will apply. There are exclusions, however. Many insurers won't cover rentals in a foreign country or rentals that are being used for business. Get in touch with your independent insurance agent to verify your coverages if you plan to rent a car in a foreign country.
Next, there's your credit card. Most cards offer some degree of coverage, but it varies widely. Coverage is usually secondary, designed to step in and pick up where your personal auto insurance leaves off, and it tends to be mostly confined to collision damage, and theft. For coverage to apply, most cards require that you decline the rental company's collision damage waiver and pay for the car in full with the card that provides the protection. Again, contact your credit card company to find out exactly what is covered.
Your homeowner's insurance, condo insurance, or renter's insurance likely are providing you with worldwide personal property coverage to help repair or replace valuable belongings that are damaged, or stolen while you're in a rental. However, your deductible and policy limits will apply, and you will have to weigh out whether being surcharged for 5 years for a property claim is worth making a claim.
Then, consider your health and life insurance, too. If you're hurt in an accident involving a rental car and you have these policies, you likely have some coverage for your own costs.
3. The Gaps!!! What Rental Coverage Might I Be Missing?
In the event something does happen to the rental car, you may be looking at charges for the rental agency's loss of use. Loss of use is the income that the rental agency loses during the time the vehicle is being repaired or replaced. Your personal auto may not cover the loss of use charges.
Rental agencies typically keep a car as a rental for only a few years and then sell it. The value of a vehicle that has been in an accident may be impacted due to the accident. The diminished value is the calculated reduction in a vehicle's resale value as the result of an accident. So the rental agency may charge you a diminished value fee and your regular personal auto policy is not set up or designed to cover diminished value.
Credit cards sometimes cover these charges but you need to be aware that they may require documentation and that the rental agency is often reluctant to provide it.
Filling these gaps in coverage is the best benefit to purchasing the CDW/LDW and giving you peace of mind on your vacation.
So, before you make that next trip, give us a call and check with your credit card company. That way you'll be ready to make an informed decision when you get to the rental car counter.